June 2022
Many happy memories of DFC and I will always be grateful for your guidance and tuition that helped give me such a sound foundation for a safe and enjoyable career in aviation.
Kind Regards, Captain Guy Cowper
CAA Examiner – May 2021
I've always enjoyed and benefitted professionally from working with you in any and every role and in multiple classes/types of aircraft from SEP to SPHPCA as a trainee, qualified pilot, instructor, examiner and senior examiner. I think we think alike when it comes to what qualifies as piloting/instructing/examining competence and we strive to work to the same standards.
Sally
Once again, I'd like to thank you for everything during the course. Your instruction was always clear and concise, and your feedback specific and helpful. I feel I have improved massively over the past six weeks and that's all down to your instruction. Despite how hard work it was, I also found it very enjoyable, with our visits to different airfields being a real highlight. I would also like to thank you for all your help and advice with my licencing woes. Please know that I genuinely appreciate all that you've done.
Chris Hall
Martin
Hi David
Thank you for making it as stress free and relaxing as any test could be. Not many examiners that are capable of that. Until next time.
Regards, Martin
Trevor
Hello David
I really must thank you for such an enjoyable check today, it was a very relaxing and informative session.
Please find the long brief attached.
Best Regards
Trevor
(Initial FI Assessment of Competence.) 8th March 2021
Khawar Aslam
Nigel Barrett
Hi David, I passed the final hurdle today in somewhat testing conditions! First course this Monday. I also received my FI rating today. Quite a day which will no doubt involve a well earned beer. So grateful to you for all your hard work, inspiration and encouragement and Thankyou!
Regards, Nigel
Sam Quigley and namesake David Hoy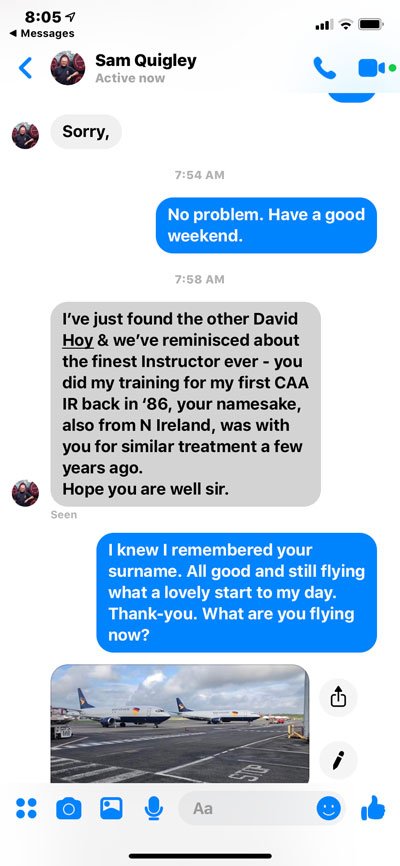 Liam
Hi David!
As promised here is a picture or several of me standing next to the first ever A319 I was privileged enough to take to the skies in. I can easily say it really was the best day of my life and over far too quickly but really did manage to savour ever second of it.
I also just wanted to say thank you for being part of my journey to get to this point as well as your kind words of encouragement, it all really did make a difference so really and truly thank you.
In sorry to have missed you before leaving Southampton, unexpected last minute changes had a bit if an impact so found myself suddenly out of time. However, rest assured I will be making the odd trip back there and you'll be first on my list of people to get in contact with. Also, if you should find yourself around Gatwick or the Crawley area and have a bit if spare time please don't hesitate to get in contact as it would be lovely to see you!
I do hope all is well your end and life is being good to you!
Liam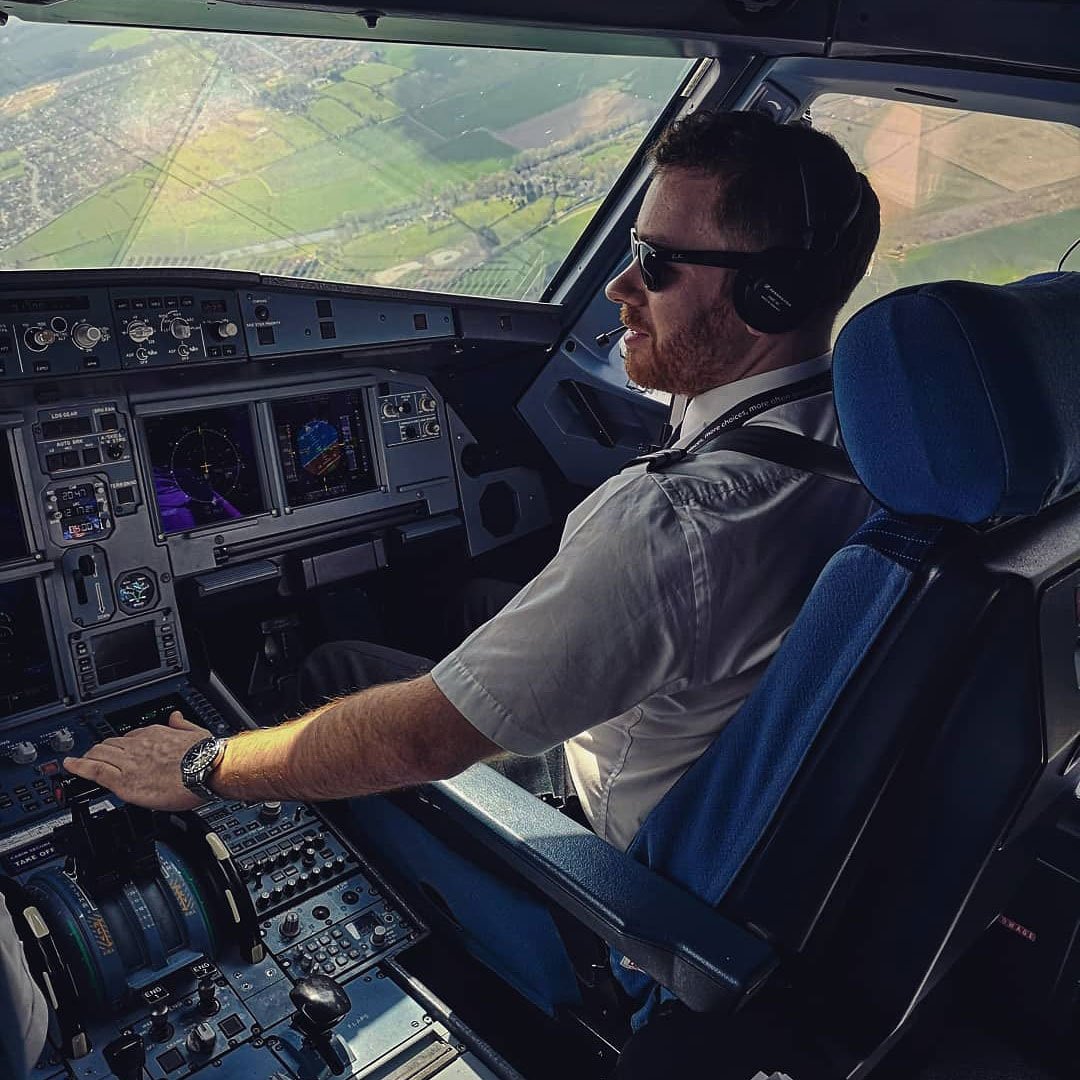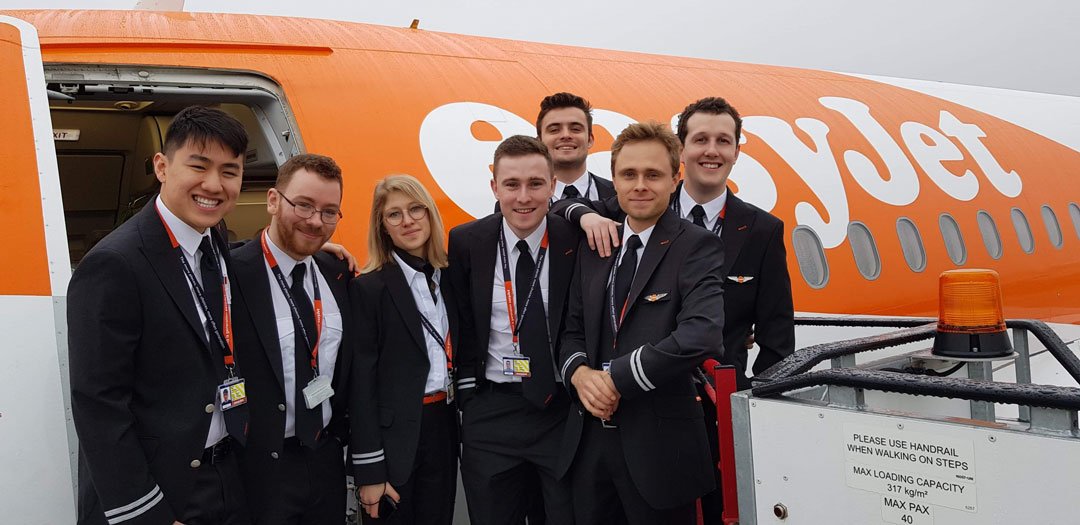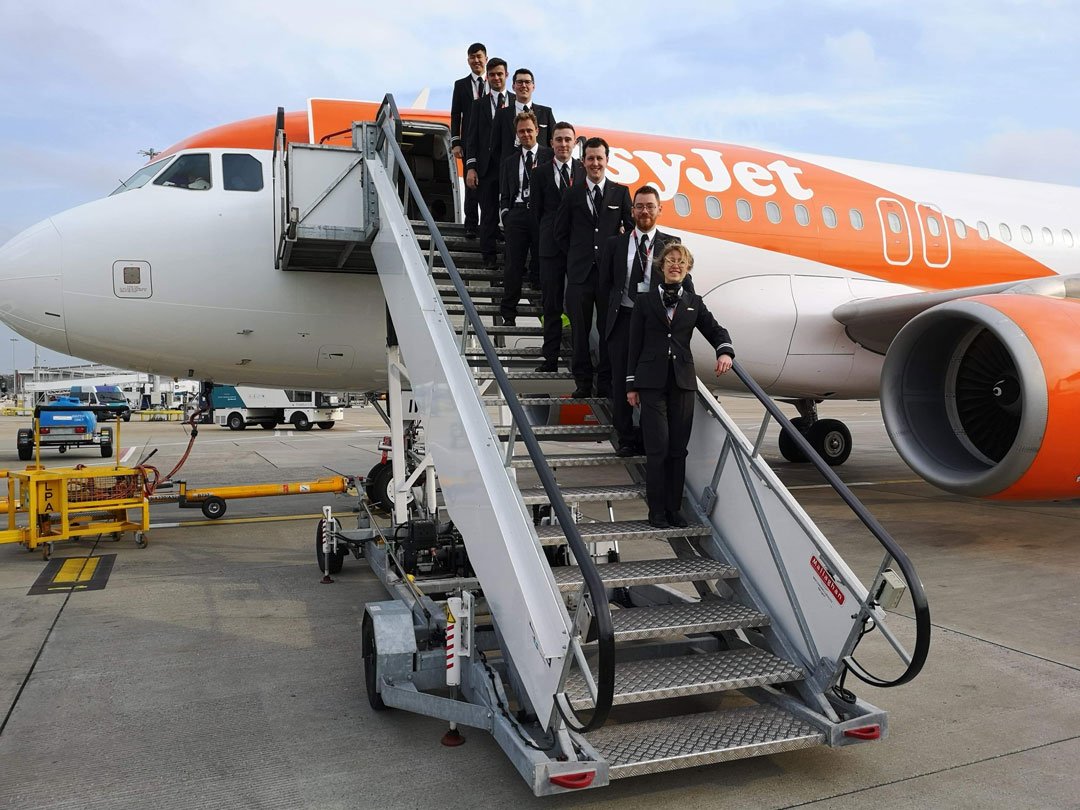 Ryan Jerrard
Hi David
I hope this finds you well?
A reminder popped up in my phone today, a year ago to the day you passed me through my IR skills test at FTA in Shoreham.
You asked that in a year I update you on my progress.
I'm pleased to say that I was fortunate to get a job with Ryanair almost straight away! I completed my line training in minimum hours to a, so I'm told, an excellent standard. Now I am flying the line based at Stansted, in no small part to your discretion, judgement and foresight a year ago!
So I wanted to say thank you and wish you all the best in your current and future endeavors.
Captain John Gratton – UK CAA
"Your IR candidates all do well. We get some good ones from other schools but your candidates are a cut above the rest which can only be due to the care and thoroughness with which you have trained them. Instructing is not the easiest of occupations: you have made it a profession and it shows! Well done."
Captain Andy Edwards, Qantas Airways
"I am grateful of my time spent in the UK and am grateful this day for the break and the advice you gave me. As you know, getting a foothold in the aviation industry can be tricky; you need a bit of luck and a leg up. The leg up you gave me was a fantastic opportunity and proved priceless. I still remember flying with you on my class rating test. I don't know if I've flown with a better instructor to this day.
I feel confident following our meeting last week that the future looks bright. I hold you personally responsible! I suppose that after as many years in the job as you've had, the enthusiasm for aviation in general could wane somewhat. But the impression you convey is different and the benefits of your experience proved enormous value."
"Thank-you for the sponsorship opportunity."
Captain Tony Regan, Cityjet
"It was always good to deal with you. I appreciated your efforts to give us the customer support we needed. At BAe Systems, you made great strides in customer service and customer care with training our crews."
Captain Gareth Griffiths, NetJets
Some years ago, you kindly offered me some flight time in return for my helping out in the operations department. I had been involved in a car crash and ran out of money. For these gestures, I had always hoped our paths would cross and they have. A token of my thanks.
Captain Will Kay
I thought I'd send you this quick email to thank-you for your great help. You managed to sort out my flying issues quickly. Experience shows.
Chris Mathews
"I first met David in 1983 when I started training for my PPL at Denham School of Flying, where he was Chief Flying Instructor. I was continually impressed throughout my training with the professionalism with which David ran the school and while I had experience of other flying schools, it was David's energy, authority and leadership which made Denham unique. David's strengths of honesty, integrity, strength and judgement come from his many years of experience in aviation."
Captain Mike Dyson
"David is a top-class pilot evidenced by his performance under various recurrent flight tests conducted by me over several years. I rate him as exceptional and he handles aircraft with an accomplished style in a class of his own."
Captain Michael Burger, ex Swissair and FlightSafety international
"David has considerable in depth knowledge and very good connections with the regulators and other key players in the industry. He has an outstanding way of motivating his team but in a calm and professional manner. His standard of teaching and examining is very high but he is also able to adapt his pace to the student's ability and capacity."
FO Malcolm Knowles, TUI
"I have had three fairy godmothers who have helped me in my aviation career. David Hoy has and continues to be one of them."